Last week I finally tackled one of my least favorite jobs ever. I cleaned our outside freezer. Not just cleaned; completely purged and organized!!

The top basket is meats. The next shelf is freezer dive meals (meals made ahead, leftovers in meal packages). The third shelf basket is our bulk cooking packages. The bottom is chicken, stock, miscellaneous things. So great to be able to find things without the entire freezer spilling on to the floor.
On the door between the kitchen and the garage I posted a chart with exactly what is in the freezer. Makes meal planning so much simpler. What is better we are buying what we need to replace not just guessing.
I am linking this to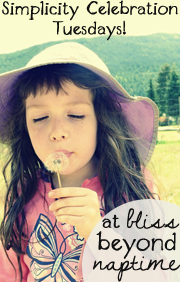 ">
If you are looking to simplify read through Kathy's blog. She also offers an Ecourse; Simplicity Parenting. The Ecourse changed our lives. I can't recommend it highly enough.